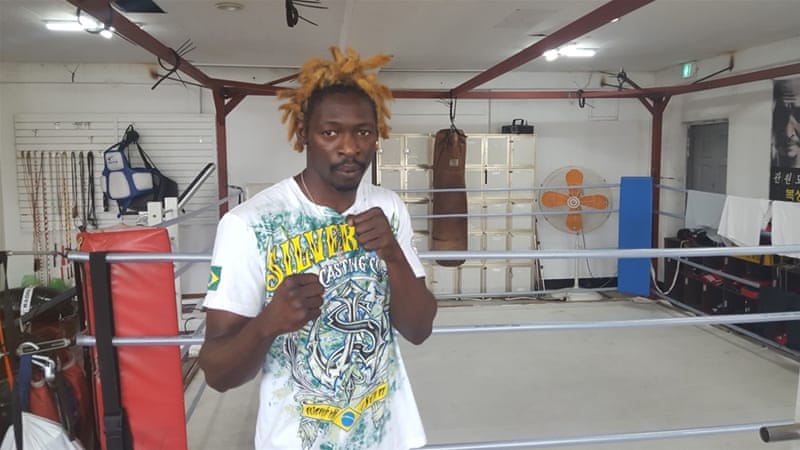 The former FAP pugilist, who had fled during an international competition held in 2015, obtained the precious document on July 18th, following his title in the welterweight category. He was boxing to get his papers.
It is perhaps the end of the Stations of the Cross for Abdoulaye Assan (34 years), and the beginning of a new life, full of hope. The boxer eventually obtained refugee status in exile on July 18th, according to an announcement made by the South Korean Ministry of Justice and reported by the English-language newspaper The Korea Times.
The man who took the name Lee Heuk-san and who was fighting – in the literal and figurative sense – to regularize his situation, saw his asylum application accepted after the title won on the 27th May in Gyeonggi province. On that day, Lee Heuk-san, born Abdoulaye Assan, became Korea Champion in the welterweight category (69.85Kg) by defeating Lee Kyu-won.
Abdoulaye Hassan arrived in Korea in 2015 thanks to the holding of the World Military Games, hosted by the country from the 02nd to the 11th October of that year. Arriving in the Cameroonian delegation to participate in the competition on behalf of the Armed Forces and Police (FAP), the pugilist, according to his testimony, had left his hotel discreetly and fled without the knowledge of his teammates and supervisors.
« It was my first time out of the country. I swore never to return to Cameroon, « he confided in July in a report dedicated to him by the Qatari channel Aljazeera. Passionate about boxing, he had later found a way to continue practicing this sport. It was his coach, Lee kyoung, who explained to him that the only way not to be imprisoned and sent back to Cameroon was to continue boxing hoping to win a title.
Before his victory in the middleweight category, the Cameroonian boxer had seen his application for asylum rejected. This was the second, which was pending, and was accepted on July 18th, 2017.
Now in possession of his refugee status, Abdoulaye Hassan sees greater. The Cameroon boxer told Korea Times that he wants to be world champion. « I want to fight for the world title as my two favorite boxers: Mayweather and Pacquiao, » he assures, confident.
Par: Patrick Hangue
Commentaires Facebook
0 commentaires