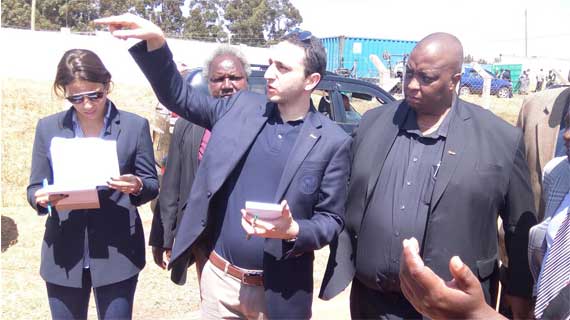 During the CAF Executive meeting in Ethiopia in September 2014, Cameroon was voted to host the 2019 AFCON while Zambia and Algeria other hopefuls were knocked out the contest.
An Inspection team sent by CAF   is expected in Cameroon from 20th August to 28th August 2017.
The team is expected to evaluate the level of preparedness with a keen interest on security, the standards of the stadiums, hotels, health facilities, and transport systems like the railways, airports, roads, media outlets, training grounds and many more.
CAF second Vice President, Constant Omari says Cameroon is expected to have six stadia with training grounds to be able entertain the twenty-four teams grouped in six poles.
Olembe Stadium- Group A
Ahmadou Ahidjo Stadium- Group C
Japoma Stadium in Douala-Group B
kouekong Stadium in Bafoussam-Group D
Limbe Omnisport Stadium-Group E
Garoua Roumde Adja Stadium-Group F
It is also required that players, the technical crew and the CAF delegations receive maximum security and legendary hospitality.
The host, Cameroon is also expected to provide sixteen to twenty High Definition (HD) Cameras for quality transmission and production.
An extra sum of FCFA 20 billion will be disbursed by Cameroon while CAF says a total cost of FCFA 700 billion will be used to organise the 2019 AFCON.
Forty-five years after the country lastly hosted the competition, much has been done to improve on the infrastructure and facilities to host big continental events.
Cameroon has seven airports, three of them with international status, seven stadia, two under construction and two undergoing renovations, a good number of hotels, an improved road network, four mobile communication companies, internet connectivity, leisure sites that adds to its high level of hospitability and many more.
Despite Cameroon's endeavours to meet up with the specifications, rumours on social media and other platforms have it that the country will not be ready to host the 2019 football jamboree.
Patrick Hangue
Commentaires Facebook
0 commentaires