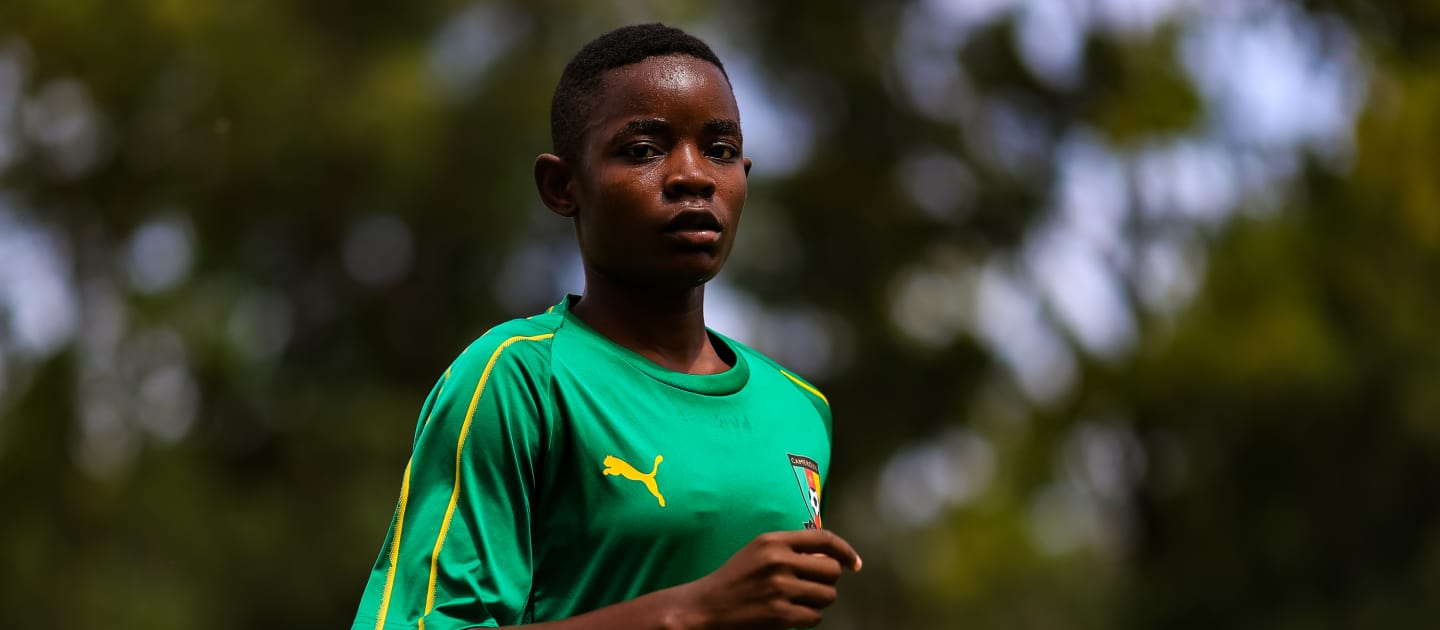 You hear Marie Ngah before you see her. She sings loudly and fervently as the Cameroon team bus arrives at the stadium in Colonia ahead of the side's opening fixture at the FIFA U-17 Women's World Cup Uruguay 2018. Alongside her team-mates, they climb out and start moving rhythmically as they sing, tentatively at first, before everyone dances their way into the changing room.
For the Cameroonians, it is simply part of the game. « It's tradition, we do it before every match, » said the 16-year-old striker, beaming from ear to ear. « I'm so happy to represent my country and to have finally made it to a World Cup. »
© Getty Images
Ngah almost participated at the tournament two years ago, having been a key member of the Cameroon side that qualified for a U-17 Women's World Cup for the first time ever.
However, she did not travel to the event in Jordan because she was too young at the time. The regulations stipulate that players must turn 15 by the end of the calendar year in which a tournament takes place.
« I couldn't believe it at first when I realised I couldn't go to the World Cup, » she said. « I was disappointed because I'd worked so hard for my dream. I'd given everything during qualifying and at the end had nothing to show for it. »
While the U-17s gained experience at the 2016 edition before eventually flying home after the group stage, Ngah – still just 14 – was inconsolable: « Everyone asked me why I wasn't there but I didn't have the strength to answer. »
However, the setback quickly helped her develop an unbending will and she passed an important school exam to finish 2016 on a high note before subsequently focusing her energy on Uruguay 2018.
Ngah scored five goals in four games during African qualifying and played a major role in securing Cameroon's second qualification for the tournament.
So when she emerged from the tunnel and stood on the pitch to sing the national anthem ahead of her country's opening match against USA, she knew she had made it. Her dream had come true – albeit two years later than planned. « It's a huge honour to represent all girls who play football in Cameroon on the international stage, » she said.
Ngah's eyes lit up once the game was underway and she was able to demonstrate her technical ability on several occasions, and also had a chance to score. Nevertheless, USA ran out 3-0 winners.
« I want to score as many goals as possible for my team, » she said afterwards, and will get her next opportunity to do so when Cameroon face Germany.
The team bus will once again pull into the stadium and the players will sing, dance and laugh as they arrive. One of them in particular will soak up every moment, having worked hard to fulfil her dream and overcome plenty of obstacles along the way.
Source : fifa.com
Commentaires Facebook
0 commentaires