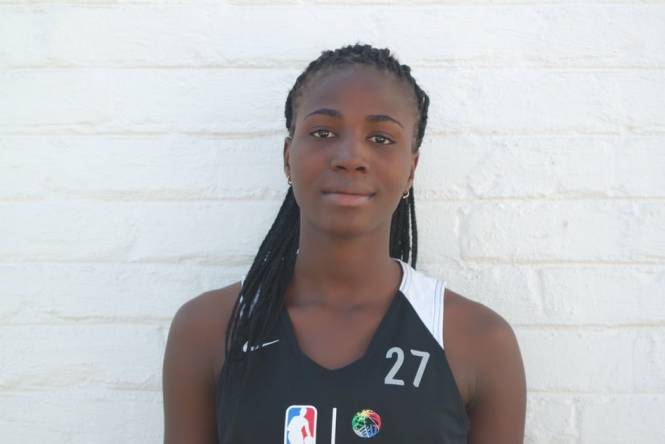 The 50th « BWB » camp, organized by the NBA to discover the emerging talents outside the American borders, settled in South Africa in Johannesburg at the beginning of August. The top 25 young players from the African continent were there. Five of them speak about themselves.
It's an atmosphere that reflects the summer basketball camps: it's only 8:30 am, but the soles are screeching on the floor and the balls are already dragging around the four corners of the sports hall. The day begins with playful workshops – songs, dances – and continues with more classical exercises of shoots, passes and others. The coaches are Erik Spoelstra, Alvin Gentry and Michael Malone all NBA clubs trainers and are assisted by Dirk Nowitzki, DeMarcus Cousins, Joel Embiid, Victor Oladipo.
Welcome to Johannesburg, where the fiftieth camp « Basketball Without Borders », the fifteenth in Africa, was organized in early August. This summer, the NBA program, which has already packed its bags in 26 countries since its inception in 2001, has brought together the continent's top 80 hopefuls (17 years or younger). Everyone wants to follow the path of the 46 professional who have passed through these « BWB » camps now drafted in the NBA, including Gorgui Dieng, present in South Africa to encourage those who imitate him eight years later. Among the young people, there are also 25 girls. We met five of them: all hope that this camp will open the doors of their American dream.
Ndeye Fama (17 years old), Senegal
« When I was little, some boys from my neighborhood in Diourbel were going to play basketball on a piece of land. I always saw them leave … One day I asked to accompany them. I asked them: « With my height (1.90m), can I become a pro one day? » They said yes. So I bought a soccer jersey and cleavage shoes. That's how I started playing basketball (…) I'm here to do something great. No matter if I play WNBA or elsewhere: later, I want to be able to help my parents, all those who have helped me in life, and others I do not know. « 
Carla Budane and Ester Gomes (17 years old), Mozambique
« We discovered basketball in Mozambique, in Maputo, thanks to a coach who took us under his wing. It was thanks to him that we were selected for the Johannesburg camp. We speak only Portuguese, but there is no problem communicating with the other girls: if necessary, we talk with our hands, we invent signs (…) When NBA players coach us, they first put The collective, the respect for the other. They make us dream big. We are ready to go through all the difficulties to achieve our goals.  »
Ester was named best player of the camp. Her friend Carla was voted MVP of the « All-Star Game » played at the opening of the NBA Africa Game at the Ticketpro Dome in Johannesburg.
Meriem Saadaoui (16 years), Algeria
« I was one of the 25 girls who participated in the first Evan Fournier camp in Algeria in July. He himself announced that I was selected to go to Johannesburg. I wept for joy. Even Evan had tears in his eyes! This decision will open many doors to me, I am aware of having been noticed by an Orlando player in the NBA, for me it's huge. My idol is Becky Hammon (one of the best players in the history of the WNBA, editor's note). I want to be like her, a basketball legend. In Algeria, the sport is badly perceived when it is played by girls, it is useless, it is not like the boys. I know that being here is changing everything. Perhaps this will help me fulfill my dream of studying in New York. « 
Farida Zongo (17 years), Burkina Faso
« I started basketball just three years ago. I was spotted thanks to my size (1,85m), which allowed me to join a club in Burkina Faso. At first I knew neither the rules nor the fundamentals, but I was great: I was quickly upgraded (…) Here, it's great. NBA players give us a lot of tips that have nothing to do with basketball: how to stand, how to talk, how to behave in life. All of us repeat the same thing: we must get down to work, because work pays. There's no hazard. And I'm going to work hard, because basketball is not just a hobby. I want to make it my job. I want to be a star of the WNBA. It's my dream since I discovered this sport. « 
Par: Patrick Hangue
Commentaires Facebook
0 commentaires