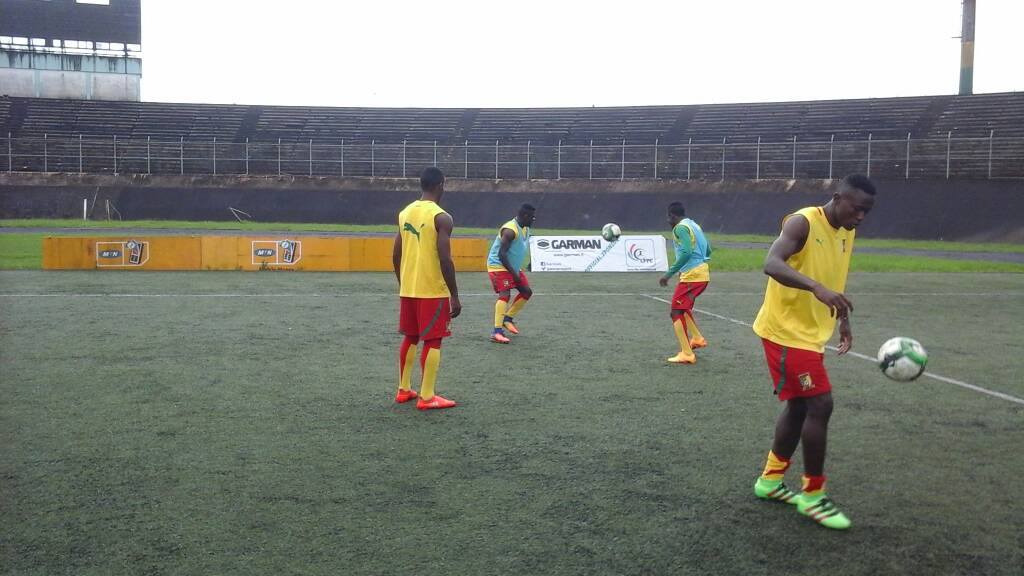 The Intermediate Lions of Cameroon trained today with 23 players. Of the 26 recently called up, only 22 showed up in Douala. The other 4 (Mbem, Moudongo, Mbom and Tazoh) who were in camp in Yaounde didnot come to Douala because of health problems. And after the start of the camp in Douala, the team's appointed captain Aaron Mbimbe had to leave for  personal reasons that will be communicated in due course. Left with only 22 players and just two central defenders, the coach of the team Rigobert  Song decided to call in two central defenders – Abouem Maya of UMS Loum and Etame Aurelien of Eding. So for now there are 23 in camp. They include,
List:
Anye Derrick (Union)
Elimbi Ebembe (Angle )
Tientcheu Alphonse(Dragon)
Kaou Febril (coton)
Ambassa Eloundou (N. Stars)
Eto'o David (Union)
Anteh Franklin ( Unisport)
Alima Atangana (Apejes)
Kofana Joel ( Apejes)
Pangop Frantz ( Union)
Gwot Kalati ( Eding)
Armel Ngondji (Eding)
Bawak Etta (UMS)
Messi Bouli ( Apejes)
Namedji Willy (UMS)
Bitang Clarence (Union)
Awono Junior (YOSA)
Owundi Bertrand (Astres)
Fosso Fabrice (Eding)
Zambe Martial ( Eding)
Eyok Emile (Avion)
Abouem Maya (UMS)
Etame Aurelien (Eding)
The name of the new captain will be communicated later. In the meantime there was training this morning and this afternoon. Raymond Fosso who had a slight injury is back in the field.
Commentaires Facebook
0 commentaires